custom steel laser cutting for individual clients & companies
Chase Steel provides custom steel laser cutting for individual clients as well as for companies across a wide range of industries, such as agriculture, manufacturing, oil drilling, construction and more. Laser cutting works by running a precise, high-powered laser beam through steel plates or sheets in order to cut them. This state-of-the-art approach provides a clean cut with better edge quality and allows us to produce complex shapes that fit a wide variety of needs. Our craftsmen are experienced in working with carbon steel, stainless steel and aluminum from our 4 in-house laser machines.
Chase Steel Services' precision forming equipment can repeatedly produce multiple highly-accurate bends in sheet metal. Our specially trained press brake operators employ a 250-ton, 10' press brake to skillfully complete projects for our clients. We are proud to be locally based and able to create a wide variety of metal products for our customers. We work with , steel and stainless steel and aluminum to produce products to meet the needs of individual clients as well as agricultural, manufacturing, oil drilling, construction companies and more. From basic brackets to intricate machined parts, we can produce almost anything you request. Our typical turn around time is 2 weeks, with recurring bulk orders incurring a 1-month lead time.
Machinery
2-3500-watt lasers with automation
—
1-4000-watt laser with automation
—
1-6000-watt laser with automation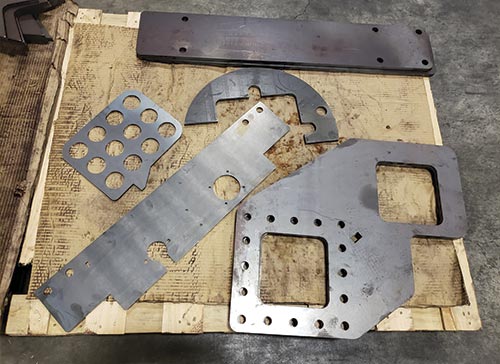 Capacities
Material Capacities of Laser Cutting
20 gauge to 1" thick steel
—
18 gauge to ¼" stainless steel
—
18 gauge to ¼" aluminum
If you are wondering about the costs involved in your steel laser cutting project, simply fill out and email a PDF and DXF outlining your requirements to Chase Steel and we'll get back to you as soon as possible with an accurate, no-obligation estimate. If you have additional questions or prefer to discuss your plans with a representative, please call us.
The modern equipment and experienced at Chase Steel Services provide obvious advantages when custom manufacturing steel products. Fast, accurate, affordable customer service is our goal, and no job is too big or too small for us to consider. As always, our materials are stored indoors and we offer convenient drive-thru and pickup for services such as:
Cutting
We can utilize a band saw to cut your metal products to length.
Machining
Drilling / Machining / Milling
This service allows us to precisely cut holes, slots, etc., within a product's design, to accurately manufacture replacement parts for machinery.
Welding
We provide light welding services for our customers. If we are unable to help you, we're happy to point you toward someone who can.